Hi, all!
Did your team win the Super Bowl? I'm sitting here right now writing this while I watch two teams that I really don't care about - but I'm going to eat junk food and enjoy the commercials, and probably by the end of the game, I'll be rooting for someone!!
Have you heard about Heather and Megan's block party that starts today?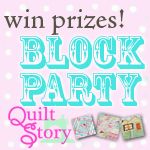 Well, I wasn't really planning to create a block for this - too much else on my plate right now - but two things happened that changed my mind. First of all, last Thursday I popped over to Quilt Story to read their newest post, and found two blocks I had made on a montage they posted to show what they considered "modern" blocks! (Who knew??) Then on Friday, I received the fabric scraps from Sew Fresh Fabrics for their Scrap Quilting Bee blocks. When I got a look at the luscious fabrics they sent, an idea popped into my head.... (a rare occurrence, to be sure!) There was some cute car material, and some of Laurie Wisbrun's Urban Circus elephant print, and I remembered a time as a kid when we went to Lion Country Safari in south Florida. Lion Country Safari was billed as a place where "the people are in cars and the animals run free" so we packed five teenage girls and two adults in a Chevy Vega (can you imagine?) and drove through! With that in mind, I created "Elephant Country Safari"...........
This was my first time trying curved seams, too - I guess fortune favors the foolish, because I sure didn't know what I was doing! But it worked, and I love it! So this goes off in the mail today to the lovely ladies at Sew Fresh Fabrics, who will put it with other blocks to create a quilt for the Linus Project. I love this idea - because it lets me participate in other folks' charity efforts in only a small amount of time! Thanks, Peg and Becca!!
And now, on to what I accomplished last week from my list.....
1. Finish piecing another ministry quilt.
Done! But I can't show you this one yet.... ;-)
2. Quilt last week's unnamed ministry quilt.
Done and delivered! And I named it King's Cross...
3. Piece backs for two donated quilt flimsies.
Change of plans - I ended up bordering one of the flimsies, backing, quilting and binding it for delivery on Sunday. (It's going to a gentleman with diabetes and some other problems.) So only one got finished, but it was needed right away! This flimsy was beautifully pieced by my friend Connie, using small-scale masculine prints - fish, ducks, fishing flies, etc. I added a tan "sandy" border and a blue vintage check border to bring it up to the right size, then popped it on the quilting frame and knocked it out in a couple of hours! Oooh, I love that thing!
4. Assemble a set of donated Double Irish Chain blocks into a flimsy.
I've got it up on the design wall but I think it's going to have to come down and wait for a while - other projects are pushing me hard! I'm glad I pulled it out and tried it out on the wall, though - it turns out there's enough blocks for two full quilts and a partial quilt - maybe the center of a quilt with wide borders! So we'll get three quilts out of that packet of blocks! Woohoo!!
5. Put binding on a donated quilt.
Done! This one will be delivered tomorrow to a lady with ALS who's going through a real rough patch right now. My friend Connie donated this quilt, all done except for the binding, so it was a quick finish. I love those!!
I really do use the quilting frame for quilting, but it makes
a handy holder for taking pics indoors, too!
And now, this week I need to.....
1. Work on blocks for a commissioned quilt. (Paying work - I love it!)
2. Work on blocks for a red and white ministry quilt.
3. Pull fabrics for our Saturday sewing get together - we're making mug rugs for our church group to take on a mission trip to Peru as gifts for the school teachers
in the town they will be working in.
4. Make a pillow by this pattern for Lilli for Valentine's Day!
Realistically, that's all I can commit to this week - I'll be surprised if I get this much done, but I'm going to try!
I want to show you one more thing - my wonderful husband gave me a Fons & Porter design wall for Christmas. It's basically a flannel-backed tablecloth with grommets at the top, like a shower curtain. Awesome idea! I had been pinning it to my fabric shelves, then came up with this idea...
I put hooks on a bracket my hubby made...
The really great thing is it's not permanent - I have a design wall when I need it, but can take it down the rest of the time! And I can still get to the fabric behind if I have to - just lift up the design wall!
One more question for you - what was your favorite Super Bowl commercial last night? I think mine was the young Darth Vader..... ;-) Although I just saw the House "Mean Joe Green" spot and it was awesome!!!