Happy Leap Day!

This

is always a big day around our house, because at 11:47 am 32 years ago, our beautiful daughter Nancy was born - and life hasn't been the same since! My granddaughter Lilli is

very

excited about this particular Leap Day, since she says she and her mom are the same age now (having had the same number of birthdays) and on Lilli's next birthday, she'll be older than her mom! Isn't it amazing what kids can think up?
Last week was really busy, and

this

week promises to be even busier! Let's see how last week's list went...
1. Finish the covers for the weighted blankets.
Done! The blankets are finished, and at home with their new owners! They both turned out really nicely...
2. Quilt and bind the secret gift quilt.
Done! This quilt was for my

daughter

for

her birthday today, and I'll share the whole quilt this coming Friday!
3. Draft the pattern for the sixth Nifty Nines quilt.
In progress. I'm still trying to work out a simple way to get the look I want - because the first way I thought of is so difficult to explain, I'll never get it down on paper!
4. Start working on the sixth Nifty Nines quilt.
In progress! I've put the nine-patches together - now I'm working on the layout.
5. Work up an estimate for a baby t-shirt quilt.
Done! Just waiting for a response from the customer.
6. Finalize the scrap challenge parameters.
In progress! I did get a button put together - you can grab it right there on the right side-bar for your own blog!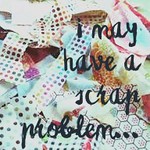 7. Bind two quilts for the ministry.
Done! And not only those two, but two more when we were working at church on Thursday! Rita's been on a roll
quilting, so I've been trying to keep up with the binding needs.
8. Keep up with any quilt ministry needs that come up.
Done! We gave away quite a few quilts this week...
This quilt went to a woman going through a whole lot of family issues right now, including a grown son returning home with his two small children...
And these two quilts went to her granddaughters, who are going through some family issues themselves.
This quilt went to a young mom experiencing some serious difficulties with her current pregnancy...
and this quilt went to a woman dealing with wide-spread cancer.
This quilt went to a gentleman who was just diagnosed with terminal cancer...
And this quilt went to a 14-month old who has been battling brain cancer for the past eight months.
And here's a happy quilt - one of our ministry members had her third daughter last week!
So all in all, not a bad week at all. I didn't finish everything I wanted to, but I finished the things that absolutely had to get done. Let's see what's on tap for this week now!
1. Complete the 6th Nifty Nines quilt top.
2. Write the tutorial for

the

6th Nifty Nines quilt top.
3. Complete the preparations for the scrap challenge.
4. Finish the scrappy table runner.
5. Begin the final preparations for the Hands2Help Challenge.
6. Keep up with any

quilt

ministry

needs that come up.
I'm going to stop there, because I'm feeling a little bit overwhelmed this week. I think a little less of a list pushing me will help get more done in the long run!
So now the question is - - - what are YOU working on this week?
PS I do hope you'll come back Wednesday for the first post in the scrap challenge - I promise you it will be an eye-opening experience!!